HIGH FLOW PORTABLE FILTRATION SYSTEM
The harmful effects of particulate contamination in hydraulic, lubrication, and fuel oils have been well documented. Oil Filtration Systems, Inc. has developed a line of High Flow Portable Oil Filtration Systems to quickly and reliably remove particulate contamination from a variety of fluids, enabling end- users to extend the life of component parts, reduce maintenance costs and down-time, and maximize profitability. These systems are portable, and can be used for fluid transfer, high velocity oil flushing, or off-line kidney-loop filtration. Filter elements are available in a wide variety of micron sizes and media types to handle virtually any application.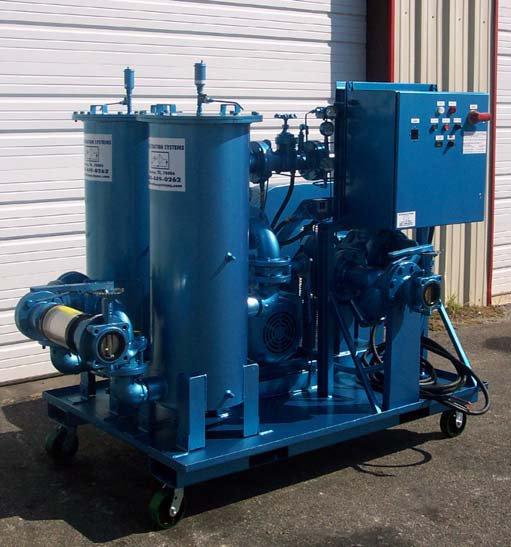 400 GPM Portable Filtration System
Flow Rates From 20-2000 GPM or Higher.
Achieve Very Low Particle Counts To Meet Or Exceed An ISO 16/13/10 Cleanliness Level
Achieve Reynolds Number >4000 To Perform High Velocity Flushing Of Pipes
High Efficiency Pleated Microglass
Particulate Removal Filter Elements
Available In Micron Sizes Ranging From 1-Micron To 25 Micron Beta>200 per ISO 4572 (99.5% Efficient)
Nominally Rated Pleated Cellulose Filter
Elements or Polyester Felt Bag Filters
Cost Effective Way To Remove Large Amounts of Bulk Particulate Contamination From Very Dirty Systems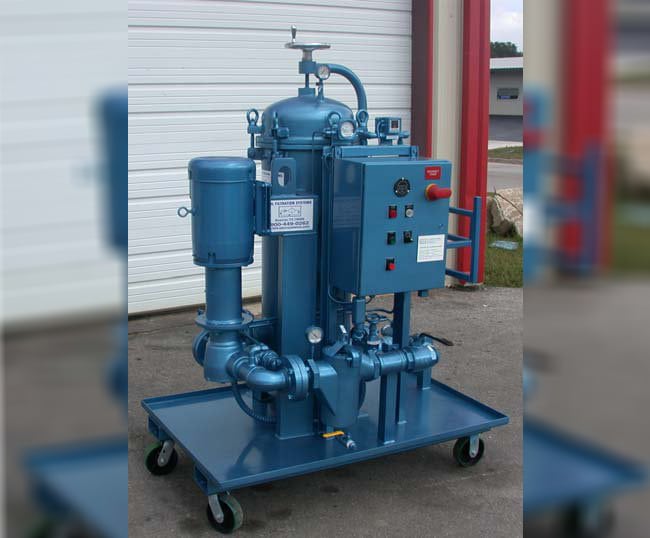 Electrical Specifications
Voltage: 480 VAC, 3 Ph, 60 Hz
(Other voltages are available upon request)
Motors: Premium Efficiency TEFC or
Explosion Proof (if required)
Control Panel: NEMA 4 or NEMA 7
Mechanical Specifications
Flow Rate Options: 20 GPM - 2000 GPM
Filter Housings: Multiple Configurations for High Flow and Particulate Removal
Plugged Element Indication: Differential pressure gauges and indicator lights provide positive indication when the elements are plugged and need to be changed.
Pump: Heavy-duty self-priming positive displacement style with built in relief.
Connections: 1" to 4" NPT with Camlock or Flanged Connections (Other Options Are Available).
Power Cord: 25' / 7.62 meter heavy gauge with high visibility yellow color (standard).
Hoses: 20' Inlet and Outlet Hoses
Oil Sample Ports: Upstream & Downstream Sample Ports
Custom Options Are Available
For technical support & applications help, call us at (770) 449-4000.