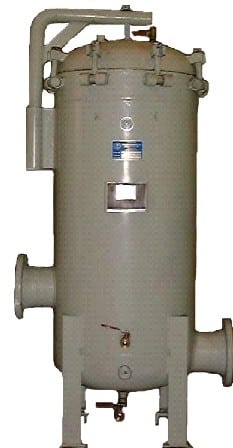 Industrial Oil Filter Vessels
LF-SERIES FILTER VESSELS 6-24
General Description
Industrial Oil Filter Equipment
The LF series filters are constructed of steel and made to handle many kinds of contamination and flow rate requirements. Designed for 150-PSI maximum operating pressure. The inlet and outlet connections are 150 pounds ASA flanges.
The LF-Series, 6 through 24, is easily installed and interchangeable with element types from 1/2 to 25 microns.
Standard LF-Series, 6 - 24
2 Pressure Gauges
Element Stand Pipes
Lifting Davits
Drain Outlets
Vent Openings
Pressure Relief Valves To Handle Thermal Expansion
Differential Pressure Gauges
Automatic Air Eliminators
Immersion Heaters
Liquid Level Gauges
Multi-port Valves For Dual Installation
Portable Skids
Pumps And Motors
ASME Code Certified
Hydraulic Oils
Turbine Oils
Diesel Fuels
Fuel Oils
Full Flow Lube Oil
Aviation Fuels
Insulating Oils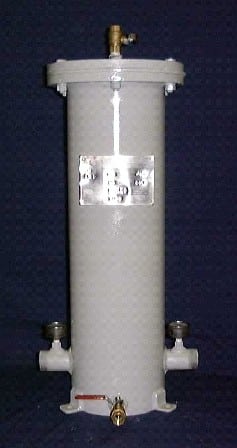 LF-1 & 2 SERIES FILTER VESSELS
MODEL LF-1 FILTER VESSEL
LF-1 Holds ( 1 ) 6" x 18" Element
LF-2 Holds ( 2 ) 6" x 18" Elements
Or ( 1 ) 6" x 36" Element
General Description
The LF-1 and LF-2 Series are constructed of steel and designed for a 150 PSI maximum operating pressure. The LF-1 & LF-2 easy to remove covers allow for quick and convenient element change out.
The LF-1 and LF-2 Series are economical and can perform a variety of oil filtration needs, depending on the type of element you choose to install.
Pleated Paper Filtration – Granular contaminants from ½ micron to 25 micron.
High Performance Microglass Media. Beta Rated
Disc-PAC-Type Filtration – Removal of acids, additives, and inhibitors from oils.
Hydraulic Oils
Engine Oils
Diesel Fuels
Fuel Oils
Full Flow Lube Oil
Aviation Fuels
Insulating Oils
Turbine Oils
Rolling Oils
Quench Oils